Reviews for A Possessive Alpha (MM)
Reader Reviews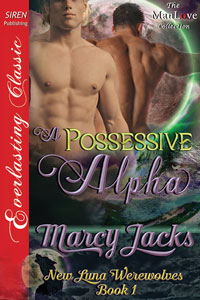 The plot was a rehash of common MM storylines and/or refresh of original series wolf info -- and way way too much sex that felt almost like filler. There are plots I enjoy (e.g., running from abusive ex) but the reader needs some new twist to keep a reader interested. No new twists here. The MCs lacked personality and the one minor character introduced was interesting but not all that likeable in my view. I resisted DNF and with quite a bit of skimming thru pages I managed to get to the end. On page 120 of 124 finally finally something suspenseful occurred. It was kind of a cliffhanger which I don't care for usually. Not sure if it is enough to motivate me to get the next book in this series -- although I usually like Marcy Jacks. Disappointed in this one though.
Reviewed by:
Dillybeaumom
(Date: 06/06/2016)
Total reviews by this reviewer:
12
See all my reviews
Did you find this review helpful? You must be logged in to vote.