Reviews for Revelations (MM)
Reader Reviews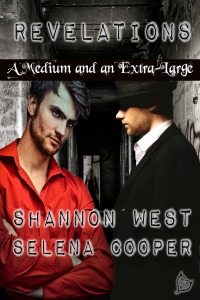 Another installment with my favorite medium J.T. and his sexy Detective Brick. They are rebuilding their relationship after the fiasco in Atlanta and Brick has come out to his partner, which is a step in the right direction. When King, Brick's partner, asks for J.T.'s assistance in finding his nephew who has been missing, no one expects what J.T. will stumble on. J.T. must use all his psychic ability to help find clues while King and Brick and Scott, Brick's brother who is in town visiting Penny, investigate and track down all the possible leads. Time is running out. The investigation takes them into BDSM private underground world and brings out revelations that Brick had not intended to come out with. Now with all his cards on the table, he will stop at nothing to protect these young men from getting brutalized. This was such a great story! My favorite one yet! And of course there were the smoking hot sex scenes between Julian and Brick that leave us all breathing heavy and gasping for more! Absolutely adore these two!!!
Reviewed by:
Shirley W.
(Date: 12/22/2014)
Total reviews by this reviewer:
25
See all my reviews
Did you find this review helpful? You must be logged in to vote.