Reviews for The Sensualization of Anna (MFMM)
Reader Reviews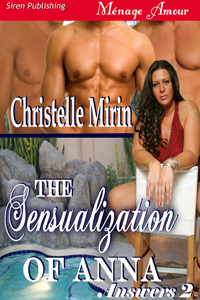 Way too short! Would have been a much better story if the characters had more interactions between them and more time to developped feelings for each other. More time for the readers to know the characters and make a deeper connection with them. Just more. Still a good story and I loved Anna's bluntness and honesty!
Reviewed by:
Melo80
(Date: 07/02/2012)
Total reviews by this reviewer:
30
See all my reviews
Did you find this review helpful? You must be logged in to vote.