Reviews for Thrice Bitten (MM)
Reader Reviews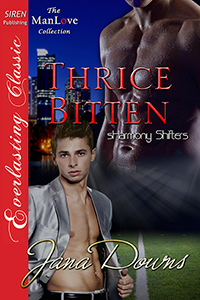 So, Jana's gone and done it again. Yet another pure masterpiece coming from this amazing woman! Each book within this series just seems to be that much better then the last one. Watching Collin come out of his world and step so quickly into that of his Mate's, kind of steal's your breath away. This book show's you just how hard working on a relationship can be to both parties involved. Especially when your also looking to bring two major extra's into the mix. I really liked how this showed more of the 'human' responses to the mating call, then it did with the shifters side. Bravo, Ms. Jana. Great work!
Reviewed by:
Wynter Sage
(Date: 01/06/2014)
Total reviews by this reviewer:
4
See all my reviews
Did you find this review helpful? You must be logged in to vote.