Reviews for Of the Panther Persuasion (MF)
Reader Reviews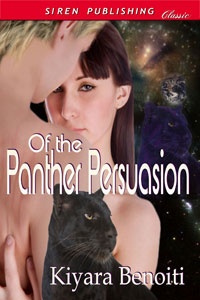 It could have been a good story, but it should have been longer to explain more about the world the author created. I felt a little lost sometimes because I would required more explanation about the customs of another planet that seemed to have a great and rich history. It's a great take on shape-shifters from what I know, but the problem is that I don't know enough about the story's world, it's frustating because it has real potential. If only the book's length was doubled, it probably could have been a very good one.
Reviewed by:
Melo80
(Date: 07/06/2012)
Total reviews by this reviewer:
30
See all my reviews
Did you find this review helpful? You must be logged in to vote.