Reviews for Outcast Beast (MM)
Reader Reviews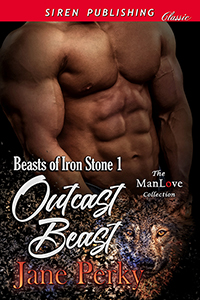 Remmy Torrence and Ford Briggs were both socially challenged. Neither were good with others. Remy was awkward and Ford had others terrified of him because he was one of three brothers labeled the Beasts of Iron Stone. The Briggs brothers were considered more savage, more vicious, and a threat to their former pack the Silver River Wolves. All of which is not entirely untrue. They are certainly hated by the Silver River pack, who made them into the savages they have become. Accepted no where they were squatting on unoccupied land in the woods of Iron Stone. A confrontation occurs between the new land owner and one of the Briggs brothers. These two main characters (Remy & Ford) seemed made for each other. After an initial series of challenges of personalities and property ownership, as well as Human versus Wolf shifter. A definite attraction is acknowledged and acted on. For the first time both were accepted without prejudicial preconceived falsehoods. They had each other's backs, something else unique. And Ford's Human partner encouraged him to help his Wolf brothers even as he produced the first aid kit & rendered aid. There are humorous enlightening moments in this story. I waited eagerly for it to be released. Not even able to wait the several weeks before it appeared on Amazon's website. While I was at it I ordered the entire three book set. and several Jane Perky books that were available on Amazon.
Reviewed by:
Deirdre
(Date: 11/05/2018)
Total reviews by this reviewer:
1
See all my reviews
Did you find this review helpful? You must be logged in to vote.