Reviews for The Dragon's Bard (MM)
Reader Reviews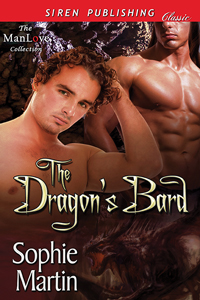 4.5 stars First time I have read anything by Sophie Martin. I read a lot of MM paranormal and other MM stuff. I buy a ton of Siren books but I have my favorite authors and I am always a little gun shy about purchasing from a new author without a compelling reason. I have had a few let downs with some very sub-par writing when I bought new to me authors. But I took a chance with this one and I was glad I did! I enjoyed it enough to purchase the next one in the series. Overall it's pretty well written. I think if I could criticize anything it would be the author's use of modern day slang terms. That pulled me out of the story from time to time, but it also made it relatable, so I gave myself permission to not let that bug me. I liked the creativity and I liked the characters very much. It's a bit of a reach that a character in this setting would say some of the things she wrote but hey, it's fantasy so why not?
Reviewed by:
Paisley
(Date: 07/20/2020)
Total reviews by this reviewer:
3
See all my reviews
Did you find this review helpful? You must be logged in to vote.